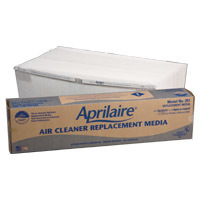 Aprilaire 2400-#401
SKU 686720224010
Product Details
Nichols Heating and Cooling-Tackle up to 99% of pollen, mold, spores, dust and other airborne allergens inside your home with the Aprilaire 401, 2400 replacement whole house air filter media. How is that possible? Patented SelfSeal technology combines with the electrostatically charged MERV 10 rated filter media to cut air gaps for more effective particle capture rate and less pressure drops. To say it simply, air coming out the other side of the filter is cleaner and it stays that way much longer. Clean air means better breathing. For those with allergies or other respiratory illnesses this should come as a relief. We spend much of our time indoors so keeping the air we breathe pollution free is big step to healthier lungs and body.
Aprilaire 401, 2400 Replacement Specifications:
Part Number: 401; 2400
MERV Rating: MERV 10
Dimensions: 16"x27"x6"
Filter Life: 6 - 12 months
OEM Part: Yes
Collapsible filter media
Genuine Aprilaire replacement filter
Replacement Filter for Spacegard Aprilaire Model 2400
Remove up to 95% of tobacco smoke
Removes up to 99% of dust, lint, pollen, dust mite debris, pet dander, mold spores, bacteria, most smoke and viruses
Note the correct spelling is Aprilaire, and not April Air, April Aire or Aprilair
Please note that you can also upgrade to the Aprilaire 413 Filter Replacement, which is typically used in the Aprilaire 2410 and 4400 Air Cleaners, provided you install the Spacegard Aprilaire 2400 Upgrade Kit. The Aprilaire 413 Air Filter boasts a MERV 13 rating (compared to the MERV 10 rating of the Aprilaire 401) and removes more contaminants.
The Aprilaire 401 can be replaced by the following compatible filters:
Honeywell Pop Up Aprilaire 2400 Compatible
Honeywell MERV 10 Spacegard Aprilaire 2400 Compatible
MERV 11 Spacegard Aprilaire 2400 Compatible (Two-Pack)
Aprilaire #401 Compatible Media Filter (Two-Pack)
The Aprilaire 401, 2400 Fits Most Air Cleaner Models That Use 16"x27"x6" Sized Filters With The Following Numbers:
Aprilaire
Generalaire
Lennox
If you don't see your model number check with the manufacturer to guarantee compatibility.
Category : Air Filters
Category : AC Filters
Category : Aprilaire AC Filters
Category : Aprilaire Air Filters Furnace Filters
Category : Aprilaire Air Filters
Aprilaire 2400 Replacement Air Filter Media Product Reviews :
Average rating :
Number of reviews : 1
Write a review
Filter Upgrade
Greg - Wood River, IL

I upgraded my Aprilaire system to the newer Spacegard 2400/Aprilaire 240. The retrofit was easy to install and the filters are easier to replace than the old Aprilaire system. The filters are superior. Glad I found Nichols Heating and Cooling, they had what I needed!
Waterford, Clarkston, White Lake, Pontiac, Davison, Highland, Hartland, Michigan
Save this product for later